I must confess that I cannot resist not using the wireless keyboard with iPad, it is so easy, so fast, and I feel at home with familiar key distance and location, it is identical across all Apple products, same keyboard layout, same size.
Copy, paste, select all, undo etc, all can be done with keyboard shortcuts as usual.
It is also very efficient when typing in Chinese, at least for me. I
am using PinYin, and it allows the entire sentence to form before putting it to my message.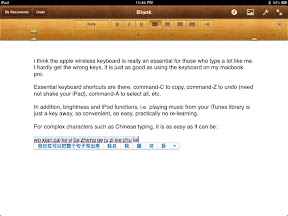 Word processing apps like Pages works well. But for some reason, Numbers, spreadsheet app from Apple, does not seems to work as expected.
- Posted using BlogPress from my iPad